EDITORIAL BOARD MEMBERS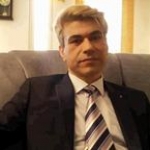 Hossein Sarmast
Department of Cardiac Surgery HospitalDamascus universitySyria
BIOGRAPHY:
Hossein Sarmast was born in 1972. He graduated in general medicine (GP), then he did general surgery residency in 2013 at Damascus university and he is also graduated as a general surgeon (GS) in 2016. After that, he began to practice as a cardiovascular surgery residency in 2017 and now, he is in last year of cardiovascular surgery resident at Damascus University (2019).
Hossein Sarmast published many papers. He also published a book entitled Relief of stress and depression with exercise.
RESEARCH INTERESTS:
Hossein Sarmast research interests include study related to cardiovascular surgery, type-2 diabetic patients, etc.
---
---
OTHER EDITORIAL BOARD MEMBER
Will be updated soon